Day 4: SXSW Wrap Up, Ashton Kutcher, and The New York Times
Mar 17, 2010
OK, I know, we didn't get a chance to update you on Day 3.  SXSW is intense on your time and by the end of the festival half the people have lost their voice and the other half are completely sleep deprived.  It's tough because the best networking happens at 2 am at the various sponsored parties around downtown Austin.  Companies from Microsoft to Mashable throw parties that attract the social media glitterati in attendance at SXSW.  Of course, most of these people are completely irrelevant to our business.  But that doesn't mean the networking isn't valuable for us.
Monday night we attended one of the best parties of all, the Foursquare/Brizzly party at the Cedar Street Courtyard.  We managed to skip the long line and attend the VIP portion of the party thanks to college friends who were actually SXSW VIPs (thanks Caroline and Jon!).  To make a long story short, Ashton Kutcher dropped by and interviewed one of our team members for his uStream channel.  We'll share that when we find it online.
We were also interviewed by Technorati and The New York Times' VentureBeat at SXSW (link coming soon for the latter).  Check 'em out!  You can also see our last official video entry here and us celebrating the end of a very successful SXSW by riding Austin's famed G'Raj Mahal snake.
This is a picture of one of the balloons we wore around every day at SXSW.  It was a great way to attract attention.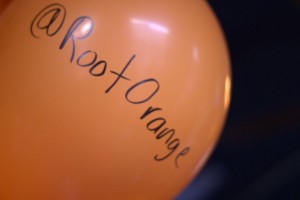 In the end we did not win the Accelerator competition but we can't complain because the field of competitors was stacked with much larger, better-funded companies.  The winner, Siri, just completed a $24M Series B round.  Yeah, $24M.  So we're pretty excited we were even selected as finalists to compete with such incredible companies!
Til next time...