Maximize Your Small Business Marketing on LinkedIn in 4 Steps
May 20, 2010
Sometimes overlooked by Facebook and Twitter, LinkedIn is one of the most powerful marketing tools that your business could use. It is the number one professional networking site and growing its user base each day, making it the ideal place to market your business.
There are numerous ways to utilize LinkedIn as part of your small business marketing strategy, but a few ways in particular are:
Use LinkedIn Groups to find new leads each day
Q&A - build trust, credibility, and expertise
Create events
Utilize the Advanced Search function
1. LinkedIn Groups
Creating a group gives your business the opportunity to identify a great number of potential leads by engaging with key influencers. The key is to be effective as possible when creating a group in order to maximize results for your organization. You want people to be able to find your small business online easily, so picking the right keywords is essential. Choose pertinent keywords in order to help your organization's search result rank on both LinkedIn's internal search as well as on Google. The easier you make it for people to find you, the more people will engage with you!
Synergy is essential when it comes to social media, so be sure to include relevant links to blogs, websites, and other company pages to the group.  If done correctly, these groups can play a huge role in lead generation for your organization.
2. Trust, Credibility, Expertise
Engage the community - and what better way to do that then by asking relevant questions. Asking questions will allow you to connect with other experts in the field and share knowledge and ideas. Be sure to set up the "Answers Applications" on the bottom of your home page.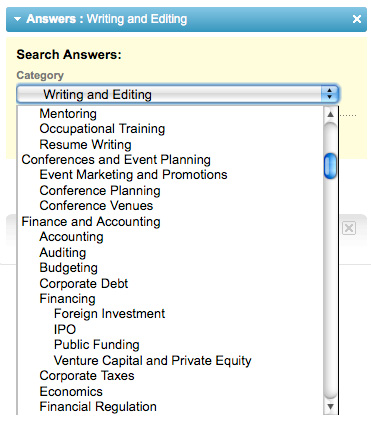 If there is a question that relates to your small business field/industry/expertise, be sure to offer your thoughts. But also be sure to go a step further, don't offer tips but share links, blogs, articles, whatever it may be that might further answer the question. If you take the time to genuinely respond and help others, they will do the same in return!
Asking stimulating and relevant questions, as well as offering advice, tips, and best practices can help you develop trust and credibility...both crucial to small business success!
3. Events
Events are a great way to engage the online community. LinkedIn has its own event platform which makes it easy for you to set up an event. The beauty in LinkedIn events is that when someone RSVPs, it shows up on the profile page of everyone that person is connected to...talk about viral marketing!
4. Advanced Search
The Advanced Search function can help your business target the exact audience you are looking for. At the top of the right side of your home page, click "Advanced." You can search by a ton of different categories, for example, industry, keywords, company, etc.
Here is a quick look: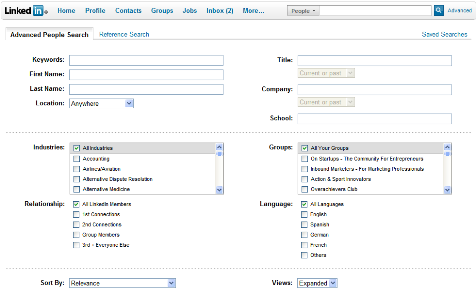 LinkedIn should be a vital part of your marketing campaign.  Other outlets such as Facebook, Twitter and Foursquare are great but the versatility of LinkedIn can do wonders for your business. Try one of all of these suggestions to enhance your marketing on LinkedIn.  You just might be surprised at what they do for your lead generation!